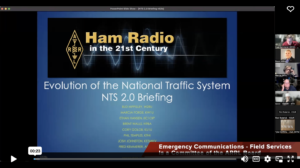 A video from the December, 2022 briefing on "Evolution of the National Traffic System: NTS 2.0" is available for viewing.
Plans are well underway for the implementation launch of NTS 2.0.
Throughout November and December, 2022, briefings were given to League members in all 15 ARRL divisions. The briefings resulted in valuable feedback on the program as well as recruitment of additional volunteers to staff the implementation groups.
A kickoff meeting was held for implementation team volunteers. Biographies and team preferences were solicited. Top priorities for the NTS 2.0 teams were also discussed. As a result of those discussions, initial priorities, process, and operational expectations were determined.
Implementation teams (or working groups) were officially launched during two Zoom meetings held on December 17 and 19, 2022.
It is anticipated that the five implementation teams will conduct regular, weekly working meetings. In addition, the team facilitators who constitute a Steering Committee will meet each week to help coordinate the work and tackle issues that require coordination between the different teams.
The first implementation team meetings are planned for January, 2023. As of January 3, 2023, two have already been held.
Mike Walters, W8ZY, writes:
"This will be our December [2022] Section Manager Meeting on Tuesday December 20th at 9 PM Eastern Time. We have two guests planned to discuss current projects.
Fred Kemmerer AB1OC to discuss NTS 2.0
Bob Naumann W5OV to discuss VOTA
<…>
Thanks
Mike