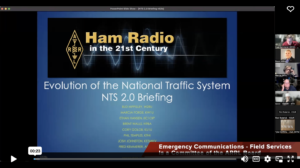 A video from the December, 2022 briefing on "Evolution of the National Traffic System: NTS 2.0" is available for viewing.
Mike Walters, W8ZY, writes:
"This will be our December [2022] Section Manager Meeting on Tuesday December 20th at 9 PM Eastern Time. We have two guests planned to discuss current projects.
Fred Kemmerer AB1OC to discuss NTS 2.0
Bob Naumann W5OV to discuss VOTA
<…>
Thanks
Mike